After spending many fast paced years working in the corporate world and building the dream for someone else... the pink slip. So, I decided to use my knowledge and talents to build my own business and dreams and started HireBob Production Services. That was over fifteen years ago. The freedom of owning my own business, allows me to explore projects in various business areas and select the ones that are best suited to my talents.
My creativity, experience and understanding of audio, video and the web, allows me to help my clients strategically and effectively showcase their business or meet their personal goals. By utilizing the exciting technologies available in todays digital marketplace, I assist them in finding the solutions they need.
I offer a variety of services including:
Video Production and Editing
Audio Recording and Editing Services
Web Design
Event Support
Audio Engineer (Live Sound)
Live Performance (Musician)
Music and Soundtrack Creation
Computer Technical Support (Mac/Windows)
DVD and CD Products and Duplication
Consulting
and much more...
My clients include, Individuals, Small Businesses, Foundations, Lawyers, Law Enforcement Agencies, Network Marketing Companies and others. Please feel free to contact me by email or phone. I'd love to discuss the services I can provide and how they could benefit your company or personal needs.
When you need the perfect solution, HireBob.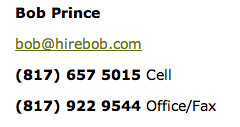 ---